Is social media small change?
The latest kerfuffle in social media circles has been Malcolm Gladwell's recent piece in the New Yorker headlined "Small Change."
In it Gladwell has the temerity of asserting that social media's impact on social change is not all that it is cracked up to be.  Some of his jabs are sharp.   Like calling innovators 'solipsists' and saying that 'they' – that is the vaunted social media futurist gurus – 'often want to cram every stray fact and experience into their new model.'
Ouch!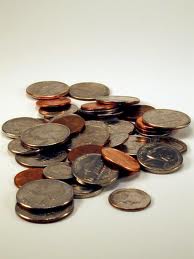 Gladwell's argument is characteristically simple and trenchant – that online social networks do not engender either the strong commitment (and risk!) nor the organizational structure that make for social change.  Using the civil rights movement as an example, he notes that real change – substantive action in the face of entrenched power – is not social media or social networking's strong suit.  Social media, Gladwell writes:
"is simply a form of organizing which favors the weak-tie connections that "give us access to information over the strong-tie connections that help us persevere in the face of danger. It shifts our energies from organizations that promote strategic and disciplined activity and toward those which promote resilience and adaptability. It makes it easier for activists to express themselves, and harder for that expression to have any impact. The instruments of social media are well suited to making the existing social order more efficient. They are not a natural enemy of the status quo. If you are of the opinion that all the world needs is a little buffing around the edges, this should not trouble you. But if you think that there are still lunch counters out there that need integrating it ought to give you pause." (my emphasis added)
This bold assertion – that social media is just window dressing and doesn't represent any fundamental change in how social change is achieved – has got the preachers of social media gospel in a tizzy.
One writer on MediaPost blasted back with an article eloquently entitled, "Malcolm Gladwell is Wrong, Wrong, Wrong."
Clearly Mr. Gladwell has hit a nerve.
And in my view rightly so.  It is still early in the social media revolution.  But what we have seen to date doesn't appear to have prompted many fundamental changes in attitudes, behavior, norms, or even public policy.
One of the better rebuttals comes from Brendan Smith and Jeremy Brecher.  In it they quibble with many of the characteristics that Gladwell attributes to past social movements.  But their main point is to remind Gladwell (and all of us) to keep a clear distinction between social media as a tool and social media as an end in itself.
"Gladwell is surely right when he says social media 'are not a natural enemy of the status quo.' But that is only the beginning of the discussion. The pertinent question is whether social media can contribute to the process of forming social movements and effective social action, not whether social media can substitute for that process. (A telephone system is not a PTA, but it can sure as heck be useful for getting a few hundred people out to confront the school board or vote in the school board election.)"
That is — in the JuiceBar's view — the better way to look at this.  Social media and social networks are tools.  They are to the 21st century what the telegraph was to the 20th (although I must say that better stories came out of the events around the Pony Express than out of the building of the telegraph network.
But Gladwell's most damning criticism is the inherent conflict that arises when information and content are 'free'.  And that is the simple fact that sustaining value and relevance is difficult when everything is free and no one has a price to pay.