Watching the news this morning from one of my favorite 'hidden gem' hotels – The CharlesMark in Boston (Back Bay).  I stumbled across an interview with Randi Weingarten of the American Federation of Teachers (AFT).  I liked her.  Seemed like a genuinely smart person and skilled operator.  And she's been working hard making the rounds this days as educations reform and charter schools take the spotlight with the new documentary "Waiting for Superman."
But I was unimpressed with her work this morning.  The exchange went something like this: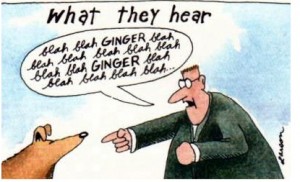 Reporter:  "But isn't there a real problem with teachers who don't have the skills or drive or ability to teach our children yet they continue in the classroom year after year?
AFT president:  "No one wants bad teachers in the classroom.  We don't want that.  We're not for that.  We're against that.  But that's not the real problem.  The real problem is getting everyone together.  We all have to address this educational challenge we face together.  We need to bring everyone to the table.  All parties have to work together to address this collectively … to do it together …".
Blah, blah, blah.
She punted on recognizing the reality of the problem – bad teachers in the classroom.  And if you can't step up and admit that a problem exists, how can you formulate a way of solving it?  She might as well have said, "If we can all just hold hands and sing the Coca Cola song …"
Then I read about the GOP's "Pledge to America".
We're for families.  We honor the constitution.  We hate deficits (as well as the government we long to take control over).  We support our troops.  We believe in a strong America.  We hate terrorists.  And we are not fans of illegal immigrants.  We love America.  We love America a lot.
So what exactly to we do?  Not so much.
My fifth grade teacher used to term all this "glittering generalities."  Kumbya on the left … Kumbya on the right.
I don't know about you but the kumbya talk doesn't work much in my world.
My mortgage company wants the check.  My clients want me to show them how much stuff I helped them sell.  The folks in the class I teach expect to learn something.  My wife expects me to fix the garbage disposal.  The people in my world want specifics.  They want tangibles.  They expect problems to be confronted and addressed.  You don't even have to solve them all the time.  But if you show that you acknowledge it and doing everything you can to fix it, people will often give you the benefit of the doubt.
Does straight talk make a company or brand stronger?  I think so.  We can all cite popular brands that don't.  But my experience is that if you dabble in glittering generalities long enough, the real problems catch up with you.
Not only that …
You become boring as hell.