In John, chapter twelve, verse eight, we have the famous quote from Jesus:
"You will always have the poor with you."
Jesus was rebuking Judas and his criticism of Mary for wasting costly perfume in the washing of Jesus feet.  (For those interested, I suggest Proseorprophet's analysis of the text.)   But today Jesus may just as likely have have said the same about the rich.  Specifically, about rich CEOs.  Even more specifically about rich, overpaid CEOs
"You will always have the obscenely overpaid CEOs with you."
Yup.  Hard to argue with that one.  And in today's bailout, bankrupt economy the CEO compensation issue is getting a lot more attention.  So it is interesting to read a spate of stories this week about CEO pay.  First, there are the stories about CEOs passing up their "bonuses." This, reported in the Associated Press:
The chief executives of Morgan Stanley and Merrill Lynch & Co. are going without bonuses for a year that has seen Wall Street ravaged by staggering losses, mass layoffs and the collapse of storied firms.

Morgan Stanley's CEO John J. Mack is giving up a bonus for the second straight year, while Merrill Lynch & Co. said its CEO John Thain also asked to go without the extra compensation for 2008 after reports surfaced he had sought as much as $10 million.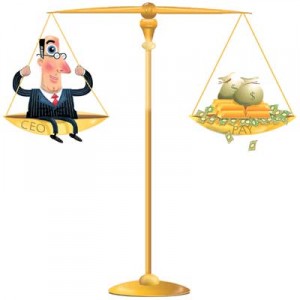 Notice anything?  They are passing up BONUSES!!  That is what you get when you do something really, really, really super good, right?  Their regular compensation?  $800k and $700k per year respectively plus perks of about half that.  Oh, and they got signing bonuses when they were hired and tens of millions of dollars in earlier bonuses along the way while managing the companies into the ground.
Still not bad for people presiding over failed institutions that nearly killed the global economy and had to be bailed out with billions American taxpayers' money, much of which will be paid by people now in elementary school who don't even get an allowance.
Which leads to the auto bailout and CEO compensation of the auto manufacturers.  Jonathan Macey in the Wall Street Journal, writes:
The failure of the General Motors board of directors to fire CEO Richard Wagoner provides a rare glimpse into the inner-workings of big-time corporate boards of directors. The sight is not pretty.

When Mr. Wagoner took the helm eight years ago the stock was trading at around $60 per share. The stock had fallen to around $11 per share before the current financial crisis. It's now below $5 per share.

In 2007, Mr. Wagoner's compensation rose 64% to almost $16 million in a year when the company lost billions. The board has been a staunch backer of Mr. Wagoner despite consistent erosion of market share and losses of $10.4 billion in 2005 and $2 billion in 2006. In 2007 GM posted a loss of $68.45 a share, or $38.7 billion — the biggest ever for any auto maker anywhere.
Ouch.  Today there's a flurry of such chatter.  Check it out.  Go to Google News and type in "executive compensation".  No shortage of reading material there.
I'm in the spin business.  But I'm hard pressed to see how best to spin this one.   Here's the Juice Bar's summary of the executive compensation pro / con argument:
If we don't pay them an outrageous amount of money, they'll leave.  To that, critics say "Great!"
If we don't pay them millions, we'll get substandard candidates.  To that, critics say "You can't do much worse that you've already done!"
It is a 'free market' system and millions is the going rate for executives.  To that, critics say "If it is a free market then don't ask the government for bailout money.  Fire the management!"
Case closed.