Happy (Belated) Mother's Day
I spent Mother's Day day with my mother in Arkansas.
She is 86-years-young and lives there just five minutes from my brother's house.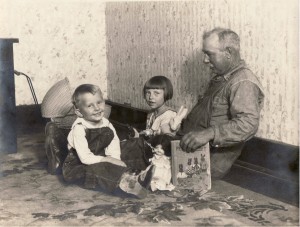 My brother and I spent the day with her rummaging through boxes of pictures.  The bulk were on modern Kodak paper.
But there was a box or two of thick, hard and very brownish ones.  Then there were these clear and shiny black and white ones about the size of a postage stamp.
We made it a project.  My bother manned the computer.  I sorted through the photos and cycled them through the scanner.  And while they were being moved from decades old sepia and paper to digits and pixels we'd have them up on a big plasma screen while Mom would look and explain the story behind each.
[The one here was one of her favorites.  That's her in the middle with her brother.  Grandpa Rousch just got finished reading her "Peter Rabbit."]
All mothers are saints.
Not!
The "all mothers are saints" thing is a myth.  I have heard enough stories from my social worker wife to know that is not true.  Some people are lucky and have mothers that teach them how to encourage, nurture, support, cherish, and love.  Others do not.
I am one of the lucky ones.
Born of humble mid-western farming stock, my mother combines a rock-hard work ethic with purity of love and caring that is all to hard to find in a modern life.  She is a reminder that old-fashioned is a compliment.  That simplicity and virtue is not only attainable, but something that can and should guide your life.  Most of all, she reminds me of what it means to be a parent and care for family.
And funny thing is.  She never told me any of this.  She just did it.
Thanks, Mom.
Happy Mother's Day.