Brain 1 – History (and Thanksgiving) 0
I've been plowing through a stack of books about the brain … how we process information, store it, understand it, and incorporate that information into our lives.  There's no shortage of them.  The brain and its vagaries are hot topics, especially if you are in the behavioral marketing or communications sciences (that would be me).  I just finished a great read by Robert Burton.  It was the title that got me:
"On Being Certain:  Believing your are right even when you're not"
Of course he wasn't talking about you and me.  To steal the tag line from the late Senator Long, he was talking about "the person behind the tree".  You and I … well, we're sure we're right.  Right?
Wrong.
Fact is, what we THINK happened in the past likely did not … at least not in the way we think.  We didn't party as much (or as little) as we think we did in high school and college.   We weren't as cool (or dopey) as we thought we were in our twenties.  And that summer road trip wasn't as fun and bizarre (or mind stultingly boring) as we imagined.
Indeed … the road trip may not have even happened!
Fact is, after you finish reading Burton's book you begin to rethink everything about what you think you know.  Because according to him a good chunk of it is something we made up along the way.
Burton explores the 'hidden layer' of the brain that enables us to – among other things – reinterpret history.  It is this subconscious layer that makes us certain about things that either allows us be certain about things that are either (a) dead wrong; or (b) didn't happen.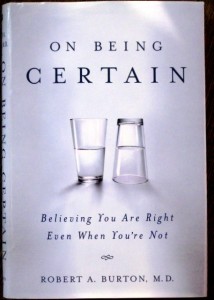 He gives the example of Ulric Neisser's famous Challenger explosion study.  Ulric, a professor and psychologist, the day after the Challenger study asked his students to write down the details of that day.  Two and a-half years later he asked them again and guess what.  In a mere 30 months less than 10 percent told the same story.  A quarter of the participants told a 'strikingly different' story.  Most interesting was this – when shown their own original account many clung to the 'new version' of history.  As told by Burton:
"Many expressed a high level of confidence that their false recollections were correct, despite being confronted with their own handwritten journals.  The most unnerving was one student's comment, 'That's my handwriting, but that's not what happened.'"
I'm imagining it is why all those politicians – both left and right – say stuff about themselves that isn't true.  Maybe it is why Rush Limbaugh and Glenn Beck have – as noted recently in the New York Times – created their own myth about the origins of Thanksgiving and the demise of American socialism and rise of American capitalism.
Doesn't have much to do with truth.  But for them it has become their reality.  The past is metastasized, digested and recast.  And viola!  Out pops a new reality.
This is a sad reality for people like me that are in the communications business.  Every day someone can wake up and decide that they are going to change history.  Their 'hidden layer' is going to process the next wave of information and decide that you're no longer cool.
Shoot, they may even decide that you are downright evil (e.g. you may have THOUGHT that those Pilgrims were nice folks yearning for religious freedom in funny hats but in reality they were communist, collectivist, fascist zealots that were only saved when unshackled from their socialist roots and given a heavy dose of capitalism and an across-the-board tax cut.)
Seems we have to work hard just to keep history the same.
Doesn't leave much time to make for a better future.