Progress can set you back.
As readers of the JuiceBar know, I travel a lot. Most of that travel is in and out of Dulles Airport in Northern Virginia.
Anyone who has flown in or out of Dulles likely has an opinion about the airport's famous "people movers" … specially made buses that were originally designed to take passengers from the terminal directly to the plane but for the past ten years simply shuttled people to the next concourse.
People movers were the things that everyone loved to hate.
Everyone wanted a subway or train.  Just like the other airports.  So the folks at Dulles built one.  A beautiful, shiny, open cavernous, glassy one.  Wide open spaces.  Smooth terrazzo floors.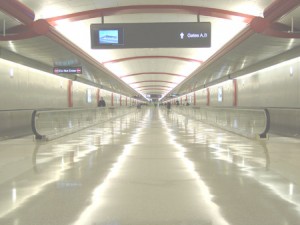 Just one thing.  To get to TSA you have to go down.  Quite a ways down actually.  The lines there are long.  Then you need to walk.  You need to walk a lot.  If there were those guys in little carts, you'd want to hitch a ride with them.  You need to walk a long way and then go down again.  Way, way down.  To the shiny, glassy, train station with the smooth, polished terrazzo floors.  Now you need to wait.  When the train comes, jump on quickly or you'll miss it.  While you're on the train waiting to arrive at Concourse C, you should rest up.  You can't drink any water because they made you throw that away at the TSA line, so just conserve your energy.  Because once you've gotten to the Concourse you're going to be walking.  And walking.  And walking.  And that is just to get to the elevator that takes you back to the surface.  So you can walk some more to get to your actual gate.
This is the progress that isn't.  It now takes me longer to get to the gate than before.  Much longer.  My only solace is that people now have to walk more so we get more exercise.  Maybe that will help solve our obesity problem.  Make every fly from Dulles.
The fact is that you now walk as much going in and out of the 'new' transit system than you would if you just stepped through the main terminal and walked straight across the tarmac to the next Concourse.
Now THAT would be progress.
I'm seeing a lot of progress that isn't these days.
Scrambling for an electric outlet to enter something into an electrical device when writing it down with a pen and paper would do.  Twenty-five clicks to get a calendar entry to synch with all 11 of my appointment books when just having an old DayTimer would do the same in a fraction of the time.
Sometimes things get better for the worse.
Sometimes progress isn't.