Concept one:  Permanent record.
When you read that what do you think of?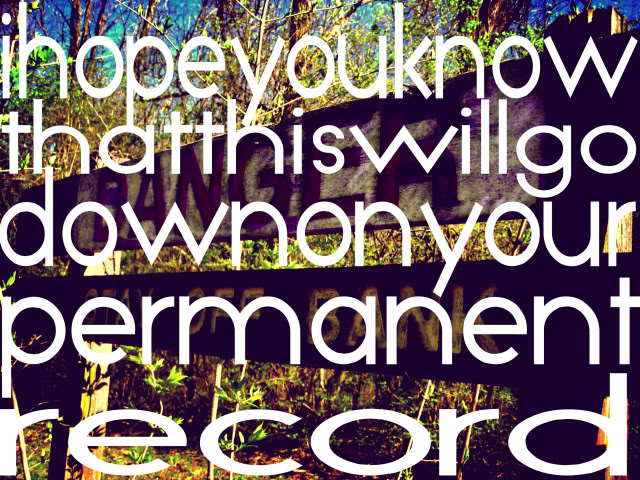 Well, since I don't hear you saying anything I'll tell you what I think of.
Prison time.  Felony conviction.  Registered sex offender.  Tatoos.
Anything — like a shadow on a sunny day — that follows you around no matter where you go and no matter how you shake it.
Now for concept two:  privacy.
You may find this a bit odd, but I'm actually a pretty private person.  I'm not a privacy freak.  I'm not overly worried about identity theft.  I'm not concerned about personally identifiable information floating around.   I sign all those release forms when I go to the doctor.
No.  It is just that I'm just very content being by myself.  Never been a crowd or party guy.  And in my corporate profile I note my motto as being "discretion is the price of freedom."  Translated that means that when talking about yourself, less is more.
Then I realize that I have a blog, I have a twitter feed, I have a Facebook page, a Plaxo page, a LinkedIn page.
And I realize that I'm not a private person at all!
Now comes Gordon Belt's book Total Recall.  In his review of the book in the Wall Street Journal, Felt writes :
In a new book, principal Microsoft researcher Gordon Bell evangelizes for "Total Recall," a practice that he describes with this motto: "Capture everything, discard nothing." The idea is to use newly available technologies to record every moment of our lives, public and private. Each of us will build a vast digital database of our every experience. Mr. Bell claims that soon "you will be able to summon up everything you have ever seen, heard, or done."
Whoa.  He goes on to write that with all this new technology and social media stuff, we'll never have to remember anything.  We won't have to use our brain or our memories.  We'll just do a Google search.
It may be because I'm prone to lapses of memory but truth be told, sometime I like to forget.  It is comforting.  I don't know if I want to be able to summon up everything I've ever seen, heard, or done.
I certainly don't want others to.
OK, now I'm a bit nervous.