So now we know that all this time the world's most notorious terrorist was living in a suburb of Islamabad.  And not only that, the town was also the home of the Pakistani military academy.  Not exactly a cave in the hinterlands.   It would be like this guy to have hung out for years in duplex outside of Quantico Marine base.
Hiding in plain sight.  This, my friends, is the story of life.
We miss stuff all the time, and it is hiding in plain sight.  Like the housing crisis.  Or the oil crisis.  Or the next retirement crisis.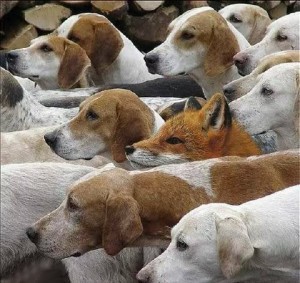 This stuff is / was there.  Like, right there!  Right in front of us.  Clear as an unmuddied lake.  But we don't see it.  Sometimes it is because the object of our affection or interest has craftily gone to the once place we'd NEVER think about looking.
Sometimes we fail to see or acknowledge what is in plain view because we're either focusing on something else.   A version of the latter is called inattentional blindness.  It was the subject of a recent popular book which I highly recommend titled "The Invisible Gorilla".  According to Daniel Simons:  "Inattentional blindness is the failure to notice a fully-visible but unexpected object when you are focusing attention on something else."
Finally, there are those times when things can hide in plain sight because we find them too uncomfortable to face.
So which was it for the Pakistani Army?  Was it simply that the terrorist had outsmarted them by going to the ONE PLACE that no one would have ever guessed (including, by the way, the Bush and Obama administrations)?  Or did they not see it because they were too busy with other things?  Or did we not see it because they didn't want to see it?
Most of the challenges we face are hidden in plain sight.  We know they are a problem.  But we don't see them because we're either (a) caught up paying attention to other less pressing but often more pleasurable things; or (b) find them too painful to confront so we pretend they're not there.
Most of the solutions to our problems are hidden in plain sight.  We just don't pursue them because it is inconvenient or uncomfortable.  This is certainly true for people.  Overweight?  Exercise and eat more fruits and vegetables.  Financial concerns?  Save more than you spend.  Unfulfilled?  Do only those things you are passionate about.
This is true for every organization and every brand.
We know we're to focus on core competencies, invest in people, constantly improve the customer experience.  The principles that the big consultancies come up with aren't rocket science.  They are pretty basic stuff.  They are things that most people in the organization ALREADY KNOW!  But they hide in plain sight because we are either distracted or inconvenienced.
Like our now deceased terrorist … most of our problems and their solutions are … right there hiding in plain sight.  And like the folks in the Islamabad suburb, most of the time we find ways to ignore what we know to be true.