Watch Out … They're Fading Fast
It is the day before Christmas and there's still shopping to do.  What to buy?
A watch?  Huh?  I say that because I open up the Washington Post on the Monday before Christmas and every other page is a full page ad — a FULL PAGE — of nothing but watches.  OK.  A full page ad isn't as much as it used to be.  But still.  That is some heavy spend.  All for something that fewer and fewer people seem to use.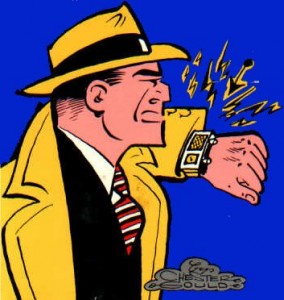 What is it with Christmas and watches?
They still make nice gifts, right?  Ask John Mayer.  He reportedly gives Rolexes to (some) of the women he gets "romantically involved" with (I think that means he is having sex with them).
But not everyone is John Mayer.   And watches seem to be going the way of the buggy whip, particularly among young people (the object of my shopping for today).
Here's a snippit from a story written a year ago by Martha Irvine of the Associated Press
In a survey last fall, investment bank Piper Jaffray & Co. found that nearly two-thirds of teens never wear a watch — and only about one in 10 wears one every day.

Experian Simmons Research also discovered that, while Americans spent more than $5.9 billion on watches in 2006, that figure was down 17 percent when compared with five years earlier.
Why buy a watch when a cell phone will do?  Apparently it is a sentiment widely shared.  I read in the New York Times that 2009 isn't looking good for our Swiss friends.  Is time is running out?  Will the watch make a comeback?  Will, as some claim, the watch have to turn it into some Dick Tracey type multi-function device in order to survive?
Too late!  The smart phone got there first.  I think I'll go buy one of them.  Then again, it we are in a recession and the kids already have a phone.  I think I'll buy (another) book.
Merry Christmas!