Merry Christmas!
Did you get the "Christmas spirit" this year?  Yes?  Well what kind of spirit was that?  I'm just checking cause a lot of what I see out there doesn't synch with my idea of the Christmas spirit.  So just for fun I typed in "Christmas" into Google News this morning.  Here's a sampling of what I found: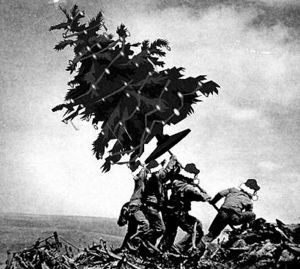 The Queen's annual Christmas talk was one of a "sombre" Christmas that, according to Her Majesty, conjures "feelings of uncertainty."
"Hallelujah!" "Joy to the World!"
Paris Hilton's Christmas spirit took the form of a pink Bentley.
"Away in a manger … no crib for a bed ..!"
According to reports, Iranian leader Mahmoud Ahmadinejad, who has called Jews animals will say Jesus, if alive today, would be against bullying, ill-tempered nations.  (Someone needs to tell him that Jesus was a Jew)
"Peace on earth, good will toward men."
Google, with a gazillion dollars in market cap and sitting on billions in cash, canceled its Christmas bonus and instead will give its employees a cell phone.
"I have no gifts for him pur-um-pa-pum-pum … Me and my drum."
The annual Disney parade will be hosted by Ryan Secrest and Matt Dallas, star of the television program in which he plays Kyle who has the 2008 version of the "virgin birth" … a boy without an umbilical cord and belly button living inside a chamber, until he woke up in the middle of a forest covered in pink fluid."
"Oh come, let us adore him."
There was the guy who dressed up as Santa and massacred people.  There was the WalMart shoppers who trampled to death the poor soul chosen to open the doors to the store.  And indeed, most stories were about shopping, retail, and sales.  So much that one story retold the quote from Bill O'Reilly who said in 2005 that, "Every company in America should be on its knees thanking Jesus for being born.  Without Christmas, most American businesses would be far less profitable."
Not the spirit of Christmas that I know.
"Fear not, for behold I bring you good tidings of great joy which shall be to all people" … "For unto you a child is born.  Unto you a son is given."
Have a Merry Christmas.