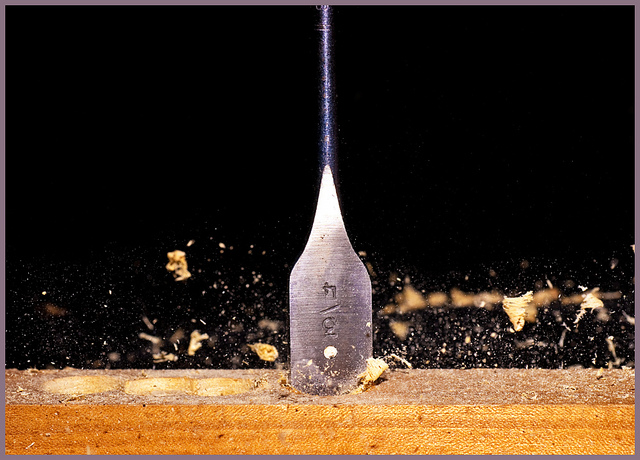 Ever watched a tradesman? Anyone, regardless of gender, who is truly skilled at his or her trade. I have. Sometimes I've even had the good fortune to work with them. From carpenters and electricians to cooks and artists.
Tradesmen are both beauty and art in motion. To watch them is to watch wisdom applied to a practical task. They move with grace and confidence. They are disciplined and discrete. They are not just skilled, they are wise in what they do.
Be observant. The tradesman sees things that other people don't. They see the angle that isn't square. They smell the scent that suggests mold. They notice the coloration that indicates a leak. They notice the things we'd never even think of looking for. Too often we have neither the patience nor predilection for the art of observing. We're too focused on "doing." And in so focused on doing, we risk not seeing the things most important.
Have the right tools.  A tradesman always seems to pull from their bag or sack just the right device to address that particular assignment. Moreover, their tools become an extension of themselves. They have the trowel that has just the right angle, the hammer that is perfectly balanced. Too often we sell or use things or tools because we have them, not because they are the best for the particular assignment. We grab what is available as opposed to what is most useful.
Be efficient. I once saw a tradesman put up a framed door from start to finish in 30 minutes. Nothing was rushed or hurried. There was no wasted movement. Every sequence was in place. Each action purposeful. Every cut was precise. Every angle was square. It was breath-taking. Too often in our passion to act, to constantly innovate, to "fail fast", the flurry of activity suffocates efficiency. When we do we waste everyone's time, including our own.
Be ready to improvise. At a build in Central America several years ago, I saw a tradesman reconstruct a broken ceramic electrical outlet with a rusted kitchen knife, a flat-head screwdriver and a half roll of electrical tape. It was the strangest contraption I'd seen and I doubt it would have passed a safety inspection. But it allowed us to continue working and finish the job while someone went to buy a new outlet. Too often we have trouble thinking creatively, particularly if "improvising" doesn't look pretty or present well. We have a hard time adjusting to the reality of the unknowable.
Finish jobs completely. The sign of a good tradesman is that after the work is done, there's no evidence they've been there. They spend as much cleaning up as they do creating. They spend as much time fixing the small, final imperfections as they do the big construction. Too often we head off for another assignment before the job at hand is complete. In not finishing, we not only leave the opportunity for a project to unravel, we miss the chance to step back and enjoy the view.
Observant. Ready with the right tools. Efficient. Unafraid to improvise. Taking time to finish and reflect on a job well done.
We should all approach our work like a skilled tradesman.
Drill Bit Cutting Through Wood by Charles Knowels Via Creative Commons