Familiarty Breeds Contempt … The True Nature of Trust
There's a buzz around a recent report by the public relations firm Edleman.  For ten long years they have invested in something they have called the "trust barometer."  Think of it like a trust weather vane.  Where is trust going?  How strong is that wind?  Who becoming more trustworthy?  Who is becoming less?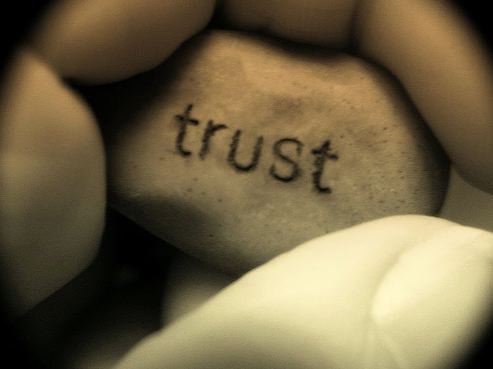 Now I'll admit that I'm skeptical about all such research.  One reason is that I do that for a living.  I know how tricky it is to measure ANYTHING related to public opinion, much less values and beliefs.  Measuring trust is right up there with predicting the path of nanoparticles.  In fact — to carry the quantum physics analogy further — you can spend a lot of time just defining what you mean by the word trust.
But I digress.
The most recent report by the Edelman Trust Barometer is a juicy "man bites dog" story.
Amidst the growth of social networking and consumer generated content, people are trusting their friends LESS, not MORE.
Yes, you read that right.  All that money and time we spend on peer-to-peer communication has resulted in people thinking less and less of each other.
Seems that the more and better I get to know you, the more I realize that you're not smarter than me.  You're just another Joe.  Warts and all.
Perhaps even worse.  With all your tweets, and posts and streams I come to the startling realization that you are even MORE screwed up than I AM.  And I'm a really screwed up person!  I should know.
Because I know myself only too well, I don't trust myself with a lot of things.  Now I've read your blog, your Facebook page, your Twitter stream and I'm not impressed.  I thought you had it all together.  But you sound a lot like me.  Why the hell should I trust you?
I write all this knowing people who read this blog are saying the same thing about me.  They read this and say — "who the hell is this guy?"  Why the hell am I listening to him?  I'm perfectly fine with that.
And that's the lesson of social media.  We knew it before blogs and MySpace pages.  Familiarity can indeed breed contempt.
And that was the mistake all along.  The big myth in social media was that peer-to-peer communication would elevate everyone.  That there would be wisdom created in crowds.  That trust would emerge as we all got to know each other.
But something different happened along with way.  We didn't change.  We remained ourselves, just with a lot more avenues to express that.  And we exposed the true nature of trust.
I don't trust the shallow frat boy.  I don't trust the occasional remark.  I don't trust just any old joe just because he or she is my age and looks like me.   I don't trust folks shilling for that latest cause.
I trust people who don't look at me as a customer, a potential sale, or a Linked In connection.
I trust people who look at me as a person, a human being, and a friend.