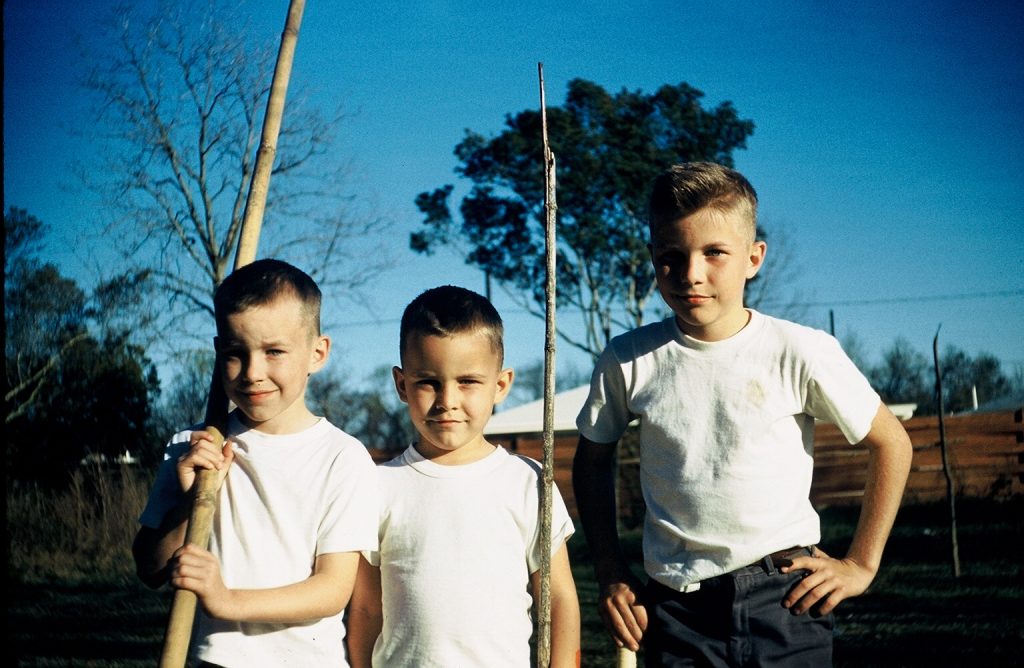 I turned 60 today. Happy birthday me!
And my brother. His name is Steve. We were born on the same day six years apart. He was the first child. I was the last. Perfect bookends. He remains everyone's big brother. I remain everyone's little brother. That is one thing that 60 years hasn't changed.
People say that chronological age doesn't matter. Once I got north of 50 I got a lot more of those "you're as young as you feel!" comments. God bless them. But y'know that's true. Like when I have a sore back after home or yard work. Like when I go to comb my hair and realize that there's not much there to comb. Not much there to "feel." But "feeling" isn't just physical.  I still find most things "amazing!"  I haven't lost my wonder. My curiosity of things only grows. While I could probably lose a few physical pounds, I haven't lost an ounce of mirth. So yes, by that measure I'm still quite young.
60.
Big deal?
Not really. Birthdays in general were never a big deal growing up. That came courtesy of being raised by parents of midwestern farmers who grew up in the Great Depression. "Just another day" my Dad would shrug. And he was right. After today there's the 14th. Then another number. And a day. All those Thursdays and Fridays and Mondays. Months. Seasons. Years. They begin to blend in quickly. Birthdays are a blip. A rain drop in life's ocean.
60.
Big deal?
Well, sorta. I'm certainly in no danger of having a mid-life crisis. That is now a chronological impossibility. Perhaps a pre-retirement crisis. With each year that passes the whisper of mortality becomes a bit louder. Something to be mindful of. No reason to freak out. Just mindful. Lot of talk about that these days. Mindfulness, that is. Everyone says it is a good thing. Health and culture gurus declare it a medicinal and therapeutic power. If so, then I figure there's no sin in being mindful of the fact that you are 60 and not 16. Or some other age. People say you shouldn't dwell on how old you are. Perhaps they are right. Don't dwell. Be mindful.
60.
Good time to step back and take stock of things.  Birthdays do that. It has been a good ride. A few hills and valleys. Luckily more of the former than the latter. Perhaps not luck at all. I have been blessed. God has been ever patient and forgiving with me. I don't know why. I'm not better than others. I'm as flawed as the next. I have my issues. God has helped me through them.
And my family? Where do I begin? Sanderijn? My siblings? My children? Their spouses? The nephews and grandchildren? The whole community of friends past and present.  Folks who I haven't seen for years but who still give me occasional shout outs and words of encouragement.  I write words but think in faces, relationships, shared experiences, deep affection and thankfulness. Just thinking about them and my 60-year-old eyes get watery. They do that more these days. Watery 60-year-old-eyes. There's a change. I'm good with that.
60.
Good time to think about tomorrow.  Birthdays do that too. I figure it is a sprint to the final. Maybe not a 20-something sprint to the final. As I remember those were fantastically chaotic. They often had the wrong finish line. Or no finish line at all! Perhaps more of a 60-year-old type sprint to the final. Methodical but determined. A sprint with some narrowing. A sprint with some leavening. A sprint interrupted occasionally with a good book, a meaningful conversation, a loving smile. And a sprint where the finish line is clear and bright.
Finish line?  My Juicebar editor tried to take me out of that one. A bit macabre? A downer? No, the finish line for me isn't a place or a time. The prophet Micah famously wrote that all God requires is for you to "act justly and to love mercy and to walk humbly with your God."
That, to me, is not a bad finish line. Regardless of how old I am. So we keep going.