Let me be clear.  I'm not in therapy.
Maybe I should be.  Nothing wrong with it.  Just not for me right now.
By "my therapist" I refer to my beloved and longsuffering wife the social worker and therapist who explained to me and for all of us the real story behind the Tiger Woods 'apology'.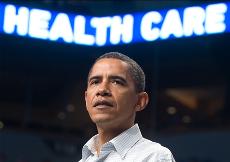 Recently she enlightened me on another recent event – the President's health care reform summit.
Did you see it?  Any of it?  I found it fascinating and apparently others did as well.  There was so much interest that it crashed some of the sites that were carrying it live.
If you did see it you may remember the opening by President Obama and his desire to focus on the positive things they can agree on.
Focus on the positive.  Talk about things upon which we all can agree.
It went down hill from there.  Apparently the one thing they couldn't agree on was to focus on what they agreed on.  What they did seem to agree on was sniping, digs, invectives, and occasional ad hominems – typical political talking points.
As my wife explained it, this was (like the Tiger episode) therapy in motion.  Again, let me paraphrase:
It looked like some of the first sessions you have when you are working with dysfunctional families, spouses, or parents with their children.  You always start with asking them to identify positive things about each other.  It never works.  Never.   Every time they come back with criticisms.   You're not five minutes into the session and people are screaming at each other, letting loose f-bombs and a host of  "asshole", "jerk", "bitch" commentary.  They just have all this pent up anger and hate for each other.  They want — no, they need — to get all that stuff off their chests and on the table for everyone — at least the 'independent' therapist — to see.  They can't help it.  They just have to go negative before they can begin getting to the positive.

The problem with the President is that he didn't do this sooner and didn't do it long enough.  You can't do therapy in one session.  You only get people to move over time, little by little.  You have to wear them down.  If the President had done this twice a week for six months, I bet he'd have gotten folks to open up and talk about those positives.

But like therapy, this stuff takes time.
My therapist!  She's not only beautiful but absolutely brilliant!