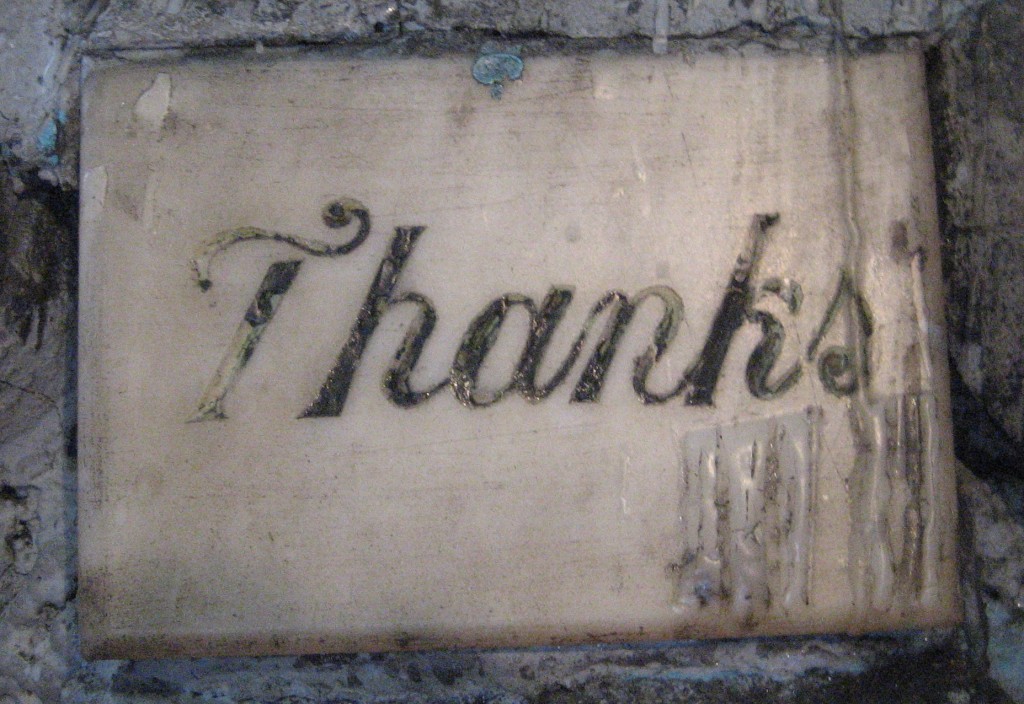 Today is Thanksgiving.
Thank you!  But most of all, thanks for all those not-so-great things in my life and the people who love me in spite of them all.
I am reminded of how Jesus' taught how NOT to give thanks.  Actually, he was teaching people how not to pray but I put praying and "giving thanks" in the same general category.
In the Gospels, Jesus tells the story of how this one guy in church "gives thanks." It went sorta like this …
"Thanks, God, for making me such a great person.  It is not so much that you've made me handsome, smart, and wealthy, which you did (thanks for that!) but you've also made so good and kind and wonderful.  And you know what?  I am!  I love my family.  I give to charity.  I do good works.  So thanks, God.  Great job!"
Jesus wasn't a fan.  He did, however, like an other guy's "give thanks" prayer which went a bit like this …
"God, I'm a miserable, wretched, no good schmuck.  Every now and then I do something right but it is more luck or someone else's grace than anything I can claim.  Thanks for giving me all the things I never deserved.  Thanks for being nice and kind, even when I was a jerk (which, I am sorta all the time because, well, I'm human).  So thanks, God.  I'm grateful for all the good things you give because it isn't what I really deserve."
So here's to being thankful for all things I don't deserve.  For all the people who did nice to me despite myself.
For all those folks at work, at worship and at play who put up with my insecurities, pettiness and biases.  People who should go screaming out of the door during lectures, rants and a host of poor decisions on my part.  But who stay, work incredibly hard, and make good things happen despite all I do to make it otherwise.
Thanks to my children, their husbands and my children's children for loving and caring for me even through those times when I was distant and unavailable.  Perhaps even more, thanks for being loving, kind and tolerant when I get preachy and judgmental.  And thanks for loving and caring for each other far above and beyond anything that I could have been responsible for.
And thanks most of all to my wife.  Who continually overlooks my many, many faults –my bad habits, my stubbornness, my moodiness.  Who is there for me throughout the many business trips and late nights working at home.  Who – like my work colleagues – has daily moments where she would legitimately merit running out of the door screaming.  Who I am convinced loves me in spite of who I am and all the stupid things I do.
This is what, I believe, God gives to us.  The ability to give, forgive and love beyond measure, beyond merit, beyond reason.
But as importantly, it is the ability to recognize that we are blessed and are to be thankful not because of ourselves, but rather in spite of ourselves.
So thanks to all of you out there.
And thanks be to God who sacrifices of himself for all of us.