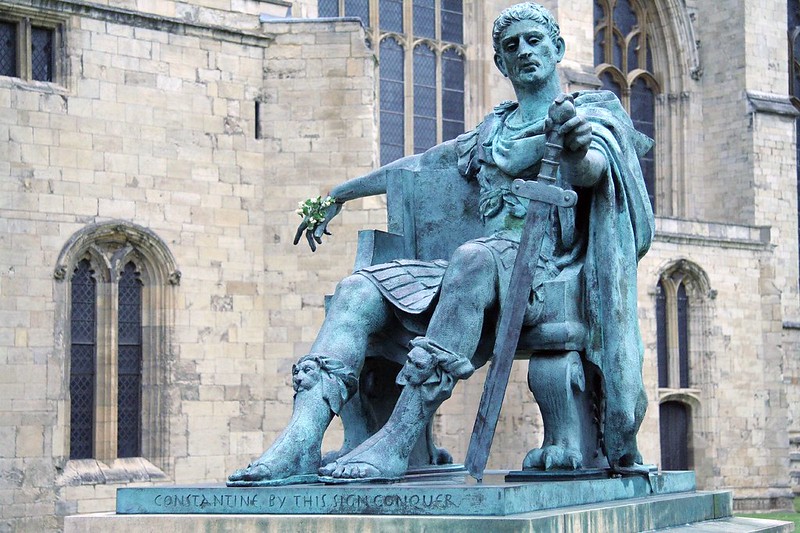 Recent Supreme Court decisions have set a spark to simmering dry tinder surrounding the issue of separation of church and state. As for one of the Court's most controversial decisions, some go as far as to suggest that the Court was guided more by religious doctrine than by the U.S. Constitution. But at a broader level, the conservative Court and its decisions have emboldened the evangelical right.
Commonly described as "Christian nationalists," they suggest that the line between church as state – at least when it involves the Christian church and the state of the United States – should not be that clearly separated.
To those, a lesson from history. When the Roman state and Christian church first merged, it was government that gained and the nascent but growing Jesus movement that was the big loser.
In 313, Emperor Constantine formally enacted the Edict of Milan legalizing Christianity. Later that century, on February 27, 380, Emperor Theodosius made Christianity the imperial religion. Some Christian historians believe that these two acts were the worst thing to befall Christianity in its early history.
During its first two hundred or so years, the "Jesus movement" spread rapidly throughout the Roman empire. Operating outside the machinations of government even to the point of persecution, Christianity was a religion of choice, a religion of charity with a particular focus on caring for the poor, orphaned, widowed and otherwise vulnerable. Its attraction was not only in its unusual teachings – that the first will be last, that the poor are blessed and woe to the wealthy, a call for humility, to serve rather than be served, that God is love and that in Him we find forgiveness. Its attraction was also in its familial and communal network of care, kindness, and support.
Rome's adoption of Christianity changed a lot of that and in many cases not for the better. Here are five to consider:
From familial to institutional and bureaucratic – Early Christians didn't meet in churches; they met in each others' homes. To be sure, much of that was because of persecution by various Roman emperors – from Nero to Trajan to Marcus Aurelius and finally Diocletian. But the move to legalize and later adopt Christianity as the imperial religion led to not just the allowance of public worship. It also led to created structures – both physical and social – that quickly eroded the original communal nature of Jesus followers. In many instances, Emperors seized infrastructure from other pagan faiths and "donated" them to the Christian church leaders. "Church" became a building, not a people. Church became a "dome" not a "home".
From bottom up to top-down conversion – The establishment of Christianity as the official religion of the empire reversed the method of traditional Christian evangelism. In the early days, Christianity was a religion of choice, spread primarily among families and communities via personal appeals. As an imperial religion, that changed. Instead of being spread "bottom-up", Christianity was spread from the top down. That is, newly conquered rulers were "convinced" by their new emperor to accept Christianity and those rulers, in turn, "convinced" their countrymen and women to do the same. Adoption of Christianity became more often a choice of politics and material gain rather than that of faith.
From diversity to rigid patriarchy – As suggested above, the early church was a loose affiliation of familial converts with widespread diversity and autonomy in the practice of their faith. To be sure, if these assemblies got out of line, they'd likely get a letter or two from Paul or other apostles and disciples. But even in their chiding, the apostles called for unity, not division. Again, association with the Roman government changed that. Over a short period of time during the 4th and 5th Centuries, four major patriarchies were established in Rome, Antioch, Alexandria, and Constantinople. Each developed their own doctrinal theory. Each competed for influence and dominance and worked to impose their doctrine on others. Bitter, vitriolic doctrinal schisms emerged over what some might consider arcane doctrinal issues including the Trinity and Christology. Bishops were ex-communicating each other right and left, East and West, North and South. Amidst all this, Roman emperors jockeyed amongst the various patriarchs not out of any attraction or personal belief but rather as a power grab, throwing their lot with whoever they thought would end up on top so they could preserve unity within the empire.
From apolitical to totally political – When responding to a question about taxes Jesus famously made the distinction between church and state. Jesus said "render unto Caesar what is Caesar's and render unto God what is God's". His meaning was clear – the two were very different. But with the Roman adoption of Christianity as the "preferred" and later the state religion, imperial and religious power became one and the same. During the late 4th and throughout the 5th and 6th centuries, rendering unto Caesar and rendering unto God became one in the same.
From Godly to worldly – From its origins, Christianity was "otherworldly." In John's account, Jesus tells his followers that the reason people are upset with them is because they are "not of the world." Later, Paul admonishes Christians to not be "conformed to this world" but to be "transformed" in mind and body. As an imperial religion, Christianity went from Godly and spiritual to worldly and carnal. Christianity went from being "not 'of' this world" to being a servant or slave to the world – specifically, the world of the Roman empire. Christianity became less about serving the poor, widowed, and orphaned and more about serving the Roman empire and its search for political predictability and stability.
All this should be a cautionary tale – both for Christians and others. As Father Mickiewicz, pastor of St. Mary's parish in Oneonta, New York wrote:
"Emperors Constantine and Theodosius did Christianity no favors. They were the catalyst that caused the edgy Gospel message to be diluted — and, we have to ask, at what price? The price of the soul of Christianity?"
So be careful. History has a way of repeating itself.