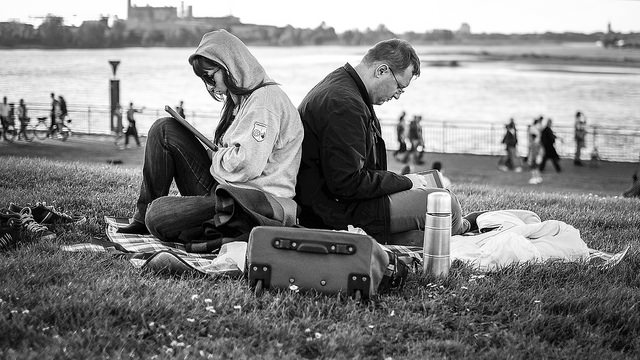 I am not a screen (although as I write this, I am looking at a screen). You are not a screen (but you're reading this on a screen, right?).
This is a problem.  I think we all need to take a break from screens.  Well, at least until I finish writing this blog post and you finish reading it!
So I was traveling this week.  I walked down Concourse A in Newark with my boarding pass, as usual, loaded on my smartphone.  Then I realized that my phone had less than 10% of its battery left. If my screen died before I reached TSA, I was in trouble.  I was a screen.
I walked into the United Club at Newark Airport.
The young man at the counter's eyes strayed up towards mine but only momentarily. I handed him my phone. He took my screen and laid it against another screen on a console. Then he looked at another screen. As he was looking into that screen, his eyes not moving, he said "Welcome Mr. Johnson."  I was a screen.
I looked around.  The lounge was crowded.  But no one was talking.  No one was laughing.  No one trading stories.  Everyone was looking at screens.  People with phones clutched them single-handed.  Those with tablets cradled them with two. Their eyes staring into screens. No head moved. People had plugs in their ears. No eyes looked up.
Several years ago, technologist (and musician) Jared Lanier wrote a book titled, "
You are not a gadget
."  I don't think it overly melodramatic to describe it as a cry of and for humanity in an age of disconnected connectivity.  I sorta felt that yesterday. My life lurches from one screen to another. A screen is one of the first things I encounter in the morning and one of the last things I look at at night. There is something sad about that.
Yesterday I was reading a presentation on how to write a book.  (Yes, I'm thinking about it.) Tip #11 was "close all the windows". I thought wow, why would anyone want to do that?  I like the outdoors.  I like fresh air.  Wouldn't an open window inspire writing not detract from it?  Then I realized that when he was talking about "windows" it wasn't the normal windows of a house.  It was the windows of screens.  Phones.  Tablets.  Laptops.  Displays (these used to be called televisions but I guess that word is headed for oblivion.)
I thought about getting a timer and totaling up the percentage time each day that I spend looking at a screen.  But I thought better about it.  I probably wouldn't want the answer.  Then I realized that to doo this I would likely have to use my smartphone.  Another screen!
OK.  You can go now.  Put down the phone.  Put down the tablet.  Close the laptop.  Take a walk.  Pet your dog.  Talk to a person.  Hold someone's hand.  Remind yourself that you are more than a screen.  And so are the people around you.
We are all more than just a screen.