2009: An opportunity taken … or squandered?
Hi there.
Hope you're having (or had) a wonderful New Year's Eve.  There's a lot of talk about putting 2008 behind us.  Indeed, in the annals of "Auld Lang Syne" (arguably one of the world's strangest song) our serenade to end 2008 was one of the most sincere in recent memory.
For most normal people — that is, if you are not a high-level senior executive of banks, insurance companies and auto companies making seven figure incomes while bankrupting your respective company —  2008 was a financial train wreck.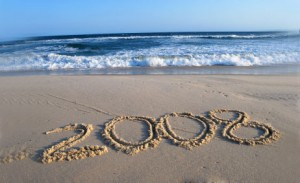 Owning a home and having a traditional 401k in 2008 was not quite the equivalent of living in downtown Manhattan on September 2001, nor was it like being on an island in the Indian Ocean on December 2004.  That said, in all three cases a significant portion of lifetime effort was swept away.
You may consider the various Bernie Madoffs of 2008 to be the equivalent of Osama Bin Laden except that that they stole wealth rather than innocent lives.  Or you may consider that 2008 was the violent correction that naturally takes place — just like a tsunami — when the basic forces of mother nature are denied over time.
In either case.  Poof!  There goes $6.9 trillion!  Trillion.  A THOUSAND billion.
Now we have talk of being prudent and frugal.  People discuss the novel idea of spending LESS than they make.  We're going to increase transparency, enforce regulations, and make things more equitable.  We're going to come together as a country and fix these seemingly intractable problems that face us.  And who can stop us?  We have Obama now.  Everything will be alright.
After September 11, 2001 we said we'd come together as a nation, put aside partisan differences, and start acting like a responsible, unified nation.  Everyone in the world was an American.
An global opportunity squandered.
Today in 2009 we have another opportunity to begin to get things right, this time with our fiscal and economic policies.  Everyone in the country seems to be behind a new administration's call for change.
Let's hope we can do better this time.
Happy New Year.