You can learn a lot about people and politics just by looking at the silliness surrounding the price of a gallon of gasoline.
The discussion over the price of gasoline is downright bizarre.  In the strum and drang on the price of filling your tank (car, not stomach!) we see the frail irrationality of the human condition in all its glory.
Things that are small, we make big.
Things that are important, we ignore.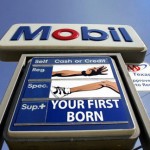 Let's put the real bizarre stuff – that of conspiracy theories, the secret agenda of the socialist, Muslim Obama presidency, big oil's manipulation to squeeze the common man until we all end up in "The Hunger Games" – let's put that to the side for the moment.  (And if you'd like to delve into that read Krugman's piece in tne NYTimes.)
Let's focus for a second – just a second! – on the facts.  How much does the price of gas REALLY matter?  How much will a hike in gas prices REALLY mean to the average American?
How about we do the math?
For the sake of my own poor math skills let's assume that we're looking at the difference between $2.50 a gallon gas (a la Gingrich) and $5.00 a gallon gas (a la near term market reality).  And for our example let's assume the average American drives 1,000 miles a month and has a car that gets an average of 25 mpg.
[Note that this OVER estimates the actual impact given that the real numbers are approximately 650 miles per month (Experian) and an average of 22 mpg (TruCar). But the math is easier so let's stick with 1,000 miles a month and 25 mpg.]
That's 40 gallons of gas a month. At $2.50 a gallon the monthly cost is $100.  At $5.00 a gallon the monthly cost is $200.
So let's make this clear.  A DOUBLING of gas prices from $2.50 to $5.00 a gallon is going to cost the average car owner a total of $100 extra dollars a month.
$100 extra dollars a month.
Let's see … that is …
the average monthly cable bill
a (very) cheap data plan for your smart phone
one (1) dinner for four at Olive Garden
a bad Starbucks habit
And that is what we're excised about.  Medicare is broke.  Infrastructure is crumbling.  The cost of college is skyrocketing.  And we're worried about the possibility of an extra $100 a month.
[Quick side note.  Since the Obama administration took office the Dow is up 60%.  For a lot of people with 401ks that real money.  Or consider that that home mortgage rates are down nearly 50%.  Again real money. And we're getting apoplectic of $100 a month gasoline.]
Now don't get me wrong.  There's a lot of people out there for whom $100 a month is a LOT of money.  They are the type of people that my wife works with.  She's a social worker.  Many of her clients live off disability or in section 8 housing or supplemental nutritional assistance (food stamps).
For them, a doubling of gas prices really hurts.
Then again, a lot of them don't have cars.
And for the ones that do, I don't think they were the ones that Rep. Gingrich was worried about when he launched his $2.50 per gallon campaign.
Fact is, for the VAST majority of Americans, $5 a gallon isn't much in the scheme of things.
Which is why a lot of politicians make it such a big deal.