Vortexes, Email and Remembering the Sabbath Day
It is Sunday.  So before going any further, grab the nearest Bible and check out Exodus 20 (or simply click it).  Check out verse eight.
Now hold that thought.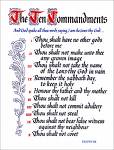 About two hours ago my plane touched down, returning from several days visiting beautiful Sedona, Arizona.
Knowing that I was there, my boss asked be about the famous Sedona "vortexes".  Don't know what a vortex is?  Well, other than it being what happens to your toilet water when you flush, neither did I.
So here's the official definition according to the reliable Sedona-based Center for New Age (that stuff is big out there …)
A vortex is the funnel shape created by the motion of spiraling energy. The vortexes in Sedona are swirling centers of subtle energy coming out from the surface of the earth. They characterize Sedona as a spiritual power center. (Although the plural form of vortex" is generally "vortices," in Sedona, "vortexes" is used.) The energy is not exactly electricity or magnetism, although it does leave a slight measurable residual magnetism in the places where it is strongest.
So there you go.  A motion of spiraling energy.  That was me this weekend.
And we (my wife and I) managed to wallow in several vortexes.
I wasn't planning to write about this on the JuiceBar until I got home and cranked up my laptop.  As usual, during the flight home — a hefty 4.5 hours — I pulled up Outlook and slogged through screen after screen of emails.  In so doing I must have sent emails to dozens of colleagues which accumulated in my "outbox" folder.  So when I got home around 4 pm, powered up the laptop, hooked up the wireless, and launched Outlook … a spew of thirtysome emails when spinning out through email clients all over the planet.
Now here's the sad part.  Within five minutes I had a dozen responses.
A dozen in five minutes — not so special.  A dozen in five minutes at 4:15 on a Sunday afternoon — a sad thing indeed.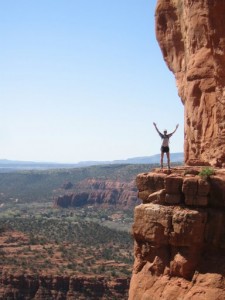 So keeping Exodus 20:8 in mind, here's what I wrote to my boss about my vortex experiences in Arizona.
On the vortex front, we (my wife and I) went to several.  We climbed all over the Bell Rock vortex.  Then circled it and the Courthouse Butte.  We interacted with the airport vortex.  I'm told it is a male vortex so I was particularly interested in that one.  We saw twisted juniper trees.  We saw wonderful vistas.  We saw a lot of other people "our age" checking out vortexes as well.

I can't say that I felt anything much … save a slight case of vertigo as we scrambled three quarters up the top of Bell Rock.  I suspect there's something to that.  People mistaking an earthly energy field for a well reasoned and genetically sound survival instinct that recognizes that the human species neither has wings nor lizards feet.  This is particularly important when you are looking down a thousand foot precipice from a eighteen inch footpath.

All in all, I am glad that people believe in vortexes.  It suggests a recognition that there is something outside of ourselves that is bigger (and better!) than we are.

I believe that to be true.  My Sunday sermon from Phoenix airport.
Next post — the metaphor of the month.
Stay tuned.