I feel just fine … how about you? And the future of journalism.
"Communications is technology."
Or something like that.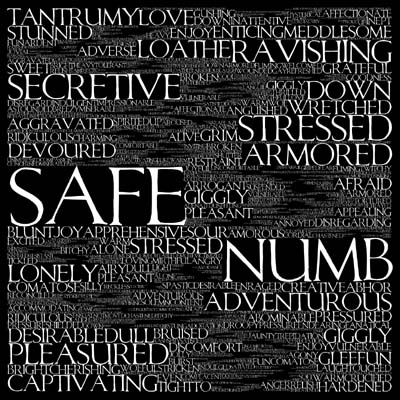 That's what my daughter said excitedly as she told me about her new english major courses at George Mason University.  The excitement in her voice and the enthusiasm in her eyes made her impromptu presentation contagious.
She took me to the creation of Jonathan Harris and Sep Kanvar.
It is a site called We Feel Fine.
Check it out.  I don't know if it is the future of communications and literature.  But it is certainly fascinating.  It is literature, research, ethnography, technology, emotions, and crowd-sourced literature all rolled into one.
According to the site:
Since August 2005, We Feel Fine has been harvesting human feelings from a large number of weblogs. Every few minutes, the system searches the world's newly posted blog entries for occurrences of the phrases "I feel" and "I am feeling". When it finds such a phrase, it records the full sentence, up to the period, and identifies the "feeling" expressed in that sentence (e.g. sad, happy, depressed, etc.). Because blogs are structured in largely standard ways, the age, gender, and geographical location of the author can often be extracted and saved along with the sentence, as can the local weather conditions at the time the sentence was written. All of this information is saved.

The result is a database of several million human feelings, increasing by 15,000 – 20,000 new feelings per day. Using a series of playful interfaces, the feelings can be searched and sorted across a number of demographic slices, offering responses to specific questions like: do Europeans feel sad more often than Americans? Do women feel fat more often than men? Does rainy weather affect how we feel? What are the most representative feelings of female New Yorkers in their 20s? What do people feel right now in Baghdad? What were people feeling on Valentine's Day? Which are the happiest cities in the world? The saddest? And so on.
And so with that, I'll say this, hoping that at some point some of these nuggets are harvested by the We Feel Fine site and that my contribution adds to someone's day and another person's science.
I feel good.  At least today I feel that way.  There have been many days in the past when I've felt bad.  Perhaps even miserable.  But today's a good one.  So far.  You never know.  I could be feeling crummy this afternoon.  Something crazy could happen.  I could remember something stupid and start feeling blue.  Feelings are that way.  Very capricious things those feelings are.  But right now, I feel good.  And the fact that I'm feeling good, feels good.
Have a nice day.