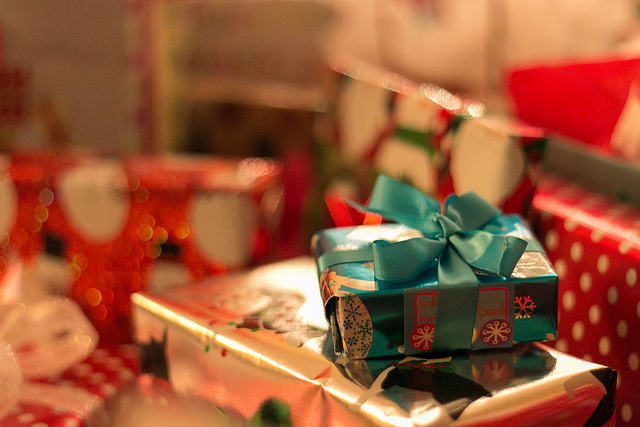 We had a wonderful Christmas. Like in many households, we have the common practice of unwrapping one present at a time, then another. Sometimes each unwrapping is punctuated by individualized explanatory gratefulness:
"Oh this is perfect … what I've always wanted!"
"Oh how wonderful and beautiful …!"
"Oh my, you shouldn't have …!"
Sometimes someone will even get out of their seat or chair, step and reach over and give someone a hug and kiss. Tell them "I love you." Tell them "this means a lot." But then it soon goes to the next present. And the next. And the next. Then the next.
Wash. Rinse. Repeat.
Then it's over.
But not with my 2 ½ year-old-grandson Marlowe.
This Christmas he had a small mountain of gifts. The first was a 5" plastic green Tyrannosaurus Rex. It could have come from the Dollar Store but no matter. He didn't really know who it was from, but that was no matter either.
All Marlowe knew was that it was the most wonderful, fun and fantastic of all gifts ever imaginable!
Any lack of personal gratitude was offset by Marlowe's perfect and complete enjoyment of this simple piece of wonder…
He was thoroughly and perfectly engrossed in the joy of a 5" plastic green Tyrannosaurus Rex who was now – with the help of Marlowe's inexhaustible imagination – greedily cannibalizing a bowl of sweets, bravely defending himself against attacks from candles and ornaments, and confidently challenging any and all imaginary threats.
Marlowe's T-Rex held dominion over the Johnson living room coffee table all Christmas morning.
Marlowe was so caught up with the joy and ecstasy of one simple gift, he didn't seem to need another. The Christmas morning ended with many of Marlowe's presents still wrapped.
We can learn a lot from Marlowe.
Most of the time we accept gifts. Perhaps we even take the time to express thanks. But before we even have time to enjoy one gift we're off looking for something else. Looking for another present to unwrap.
Never fully benefitting from the wonder of any one thing, we look to unwrap something new.
We should all be more like Marlowe. When a gift comes we should revel in it. Lose ourselves in it. Forget about "what's next" and enjoy "what's there."
That is the true spirit of Christmas.