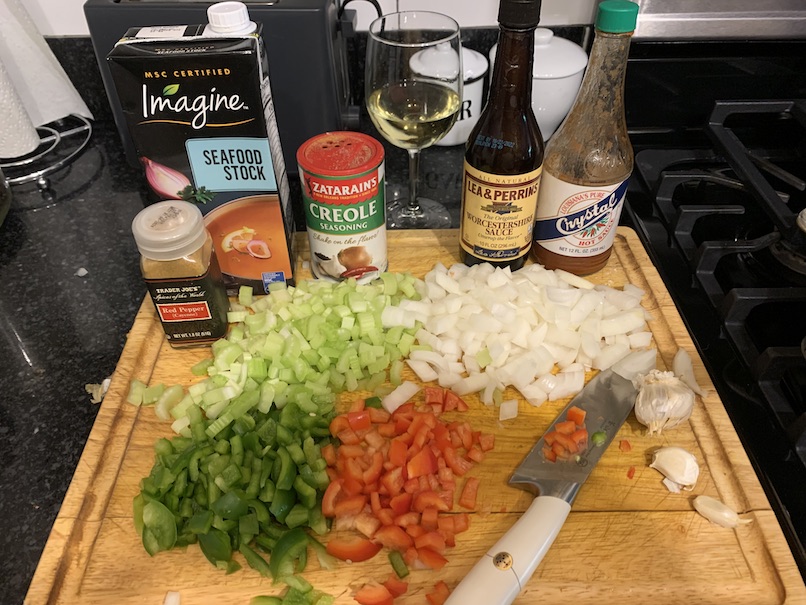 There are three things at which New Orleans excels: food, music, and having a good time. 
Let's talk food.
N'awlins cuisine is not just about eating it, but also about preparing it. For me, it was a combination of watching Justin Wilson on local public television, learning a thing or two from Leon Soniat (a Jefferson parish legend), and my friendship with Rita Godchaux. 
Rita was a grade ahead of me as were my two best friends Veazey and Alfred.  Rita made it through Louisiana State University (LSU) with a degree in "general studies" which, at LSU, translates into a degree in specialty #3, that is "having a good time." In fact, I'm pretty sure that if there were a Dean's List in having a "good time," Rita would have been there – every semester.
After graduation, as many of my friends, Rita ended up working on offshore oil rigs in the Gulf of Mexico. But women back then didn't qualify for being a roustabout or roughneck. Rather, Rita apprenticed and later became head chef, knowing that being a cook for roustabouts and roughnecks is about as close to being God as possible. It didn't hurt that Rita was pretty hot.
Like other rig workers, Rita had a "two week on, one week off" schedule. She would often spend her "off" weeks at The Palm Beach Club – aka Veazey and Alfred's house just off Jeff Highway in the heart of Jefferson Parish's Harahan. Rita would trade a week's worth of lodging and partying for a day's worth of cooking. The latter would generate enough food to last until her next appearance.
Here's what I learned from Rita about cooking gumbo. (I learned a lot of other things from Rita, but we best stick with gumbo for now.)
Before you start, have a bottle of wine. Maybe two. Check that. At least two.
A good gumbo takes about a couple of hours and the better part of a bottle of wine. White for seafood gumbo. Red for sausage and ham gumbo. Let's go with white and seafood.
Regardless of which color wine and dish you choose, the foundation of a good gumbo is a good roux. Like many things in life, a roux is simple but challenging. The ingredients are simple – oil and flour. Typically it is one-half or 3/4 cup each.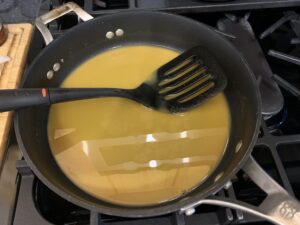 The first thing to do is to heat up the oil in a large deep cooking pan. Put it on medium temperature. After a few minutes (use the time to open that wine bottle!) drop on a sprinkling of flour. Make sure that the oil is hot enough to make the flour sizzle. If so, slowly feed in the rest of the flour. Use the back of a spatula to work the flour into the oil until it is totally mixed together. Turn the heat down and spend the next twenty minutes using the back of a spatula to work the flour and oil mix until it is a thick golden brown.
Take your time. This is the zen part of Cajun cooking. A good roux requires requires patient attention. Rita said that you need to work the mix at least once every minute or so. In between, you've some time to (a) drink a little wine and (b) dice some vegetables. They're both part of the recipe!
The vegetables consist of three onions, two bell peppers (one green and one red), and 4-5 stalks of celery. Find a sharp knife. Use your best dice technique. Mix them all in a bowl.
Take a sip of wine.
Once the roux is a dark golden brown (about a full glass of wine's worth) toss in the vegetables and stir with the goal of coating all the vegetables with the freshly made roux. Continue to work the vegetables until the onions caramelize and the peppers and celery soften.
Now comes the multi-tasking.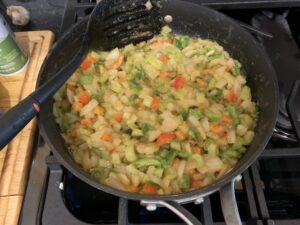 In between working in the vegetables, do three things. First, find a place on the stove for one of your bigger, deep cooking pots. That is where everything is going to happen next. Second, open up a small can of tomato paste and a big can of whole or chopped tomatoes. Finally, open up a box of seafood stock. And when the vegetables are nice and soft, combine all three – the vegetables, the tomatoes, and the seafood stock – in that large pot and crank up the heat.
Have another sip of wine.
While the stew begins to heat up, prepare the shrimp. You'll want a couple of pounds of medium size shrimp. I like them fresh and raw. Rita said that the best way to prepare shrimp is either to bake or steam them. Baking works best for bar-b-que shrimp but that's another recipe, so Rita typically leaned towards steaming. That requires another pot with a couple of inches of water and a colander large enough to handle 2 lbs of shrimp. Once the water is boiling, put on the shrimp and cover. You'll want to stir every 15-20 seconds or so. Shrimp cook quickly and, if overcooked, they get a bit rubbery so you'll want to stop once the shrimp get nice and red and the skin begins to separate. Drain and let the shrimp sit for a couple of minutes.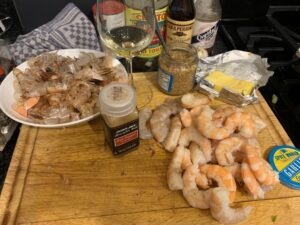 Everyone has their own way of peeling shrimp. Rita said the tail goes first. Then you grab the legs at the top of the shrimp and peel around in a circular motion. Once that's done do something similar to the bottom half. That works for me … but you do you.
This is optional, but if I've time I often get a pan and lightly sauté the shrimp in a garlic butter mixture. Low heat. Careful not to overcook. I find it provides a bit more flavor.
Then there's the okra. Can't have gumbo without okra. But watch out. Okra is a bit dicey to cook. Slice them to about ¼ inch. Then slowly cook 2-3 tablespoons of butter. Add the okra. Stir constantly. Consider adding a bit of Worchester sauce (but not too much!!!). Don't overcook as overcooked okra can get gooey quickly.
Put the cooked shrimp into the large pot of vegetables, tomatoes, and seafood stock. Add a large can of crabmeat and – if you're brave – a can of whole oysters (with sauce). Then add the okra.
Have another sip of wine.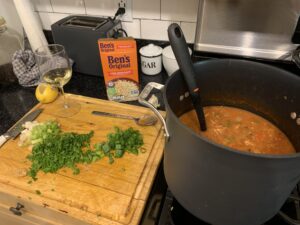 At this point, you should have a hefty pot of gumbo. Boil then simmer. Once that's past another sip of wine you add the basil, bay leaves, (very small) thyme, chili power (cayenne pepper is better), a dash of Worchester.
Now for the hot sauce. Feel free to toss in Colonel McIllheny's Tobasco sauce. But if you're really brave and want to show your native roots consider Crystal Hot Sauce from my hometown of Jefferson Parish.
While everything settles, get busy cooking a box and potful of Uncle Ben's rice. A medium-size box of Uncle Ben's Original Long Grain White Rice should do the trick 
Finally, know that gumbo tastes better over time. So if you've time, let it sit for at least a hour or so. 
Time to finish off the first bottle of wine and open another. 
When you're ready get a nice, rounded scoop of rice and serve the gumbo over it so it surrounds it like a moat. Season and spice to your taste. Rita liked to add a dash or file powder to hers.
Sidenote. If you really want to show off, have a couple of baguettes handy, slice, butter, maybe a bit of garlic powder and lightly toasted in the oven.
You'll have enough for anywhere from six to ten servings, depending on the size of the serving. Rita's mix usually lasted the better part of the week.
Enjoy! As they say in the Crescent City, "Laissez les bons temps roulez!"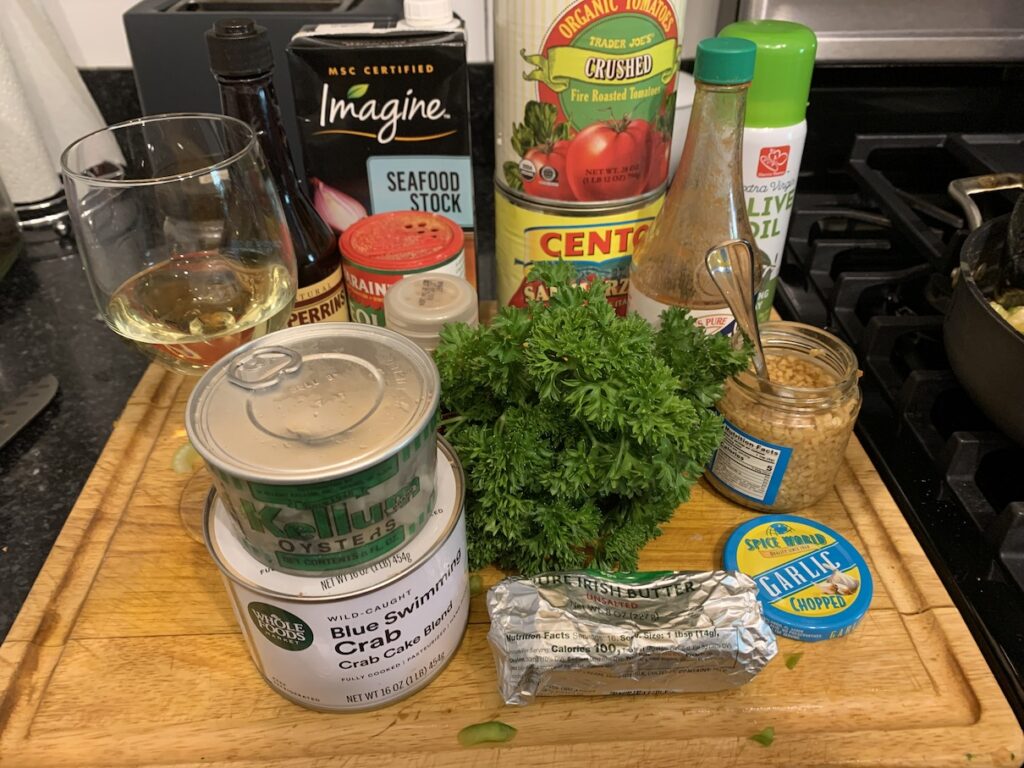 Ingredients
2 lbs of shrimp
2 dozen oysters (medium size can)
½ dozen crabs (medium size can)
¾ oil (or, if you're adventurous, lard!)
3 onions, chopped
4-5 large cloves of garlic, minced
1 6-oz. can of tomato paste
1 16 oz. can of whole or chopped tomatoes
1 ½ quart of seafood stock
2 cups of chopped okra
½ tsp. of thyme
1 tsp. of basil
4-5 bay leaves
½ tsp. of chili powder (use cayenne!)
½ cup of minced parsley
Dash(es) of Crystal/Tobasco hot sauce
1 stick of butter
https://youtu.be/eK4umRMJlrs (Justin Wilson)